For the city of the same name, see: Ralston (city)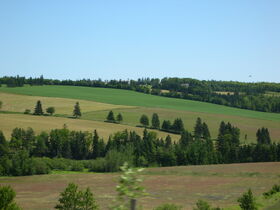 Ralston is a state of New Shetland located in the Nieves Valley within the Nieves census region. The state is the most northern state but Pinggo. It is mostly cultivated, with a heartland consisting of forests and the Ralston State Park, a protected environment hosting hundreds of species. The capital of Ralston is in the eastern part of the state, Monica. The biggest city, however, is the centrally located eponymous city of Ralston.
The area was cultivated a decade or so later than the other Nieves states, because until 1915 most economic activity in the state was focussed on the findings of gold around Monica.
This is a list of places in Ralston with more than 1,000 inhabitants:
Community content is available under
CC-BY-SA
unless otherwise noted.