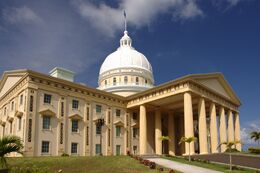 The Senate is the highest governmental body in New Shetland. It has 150 seats and is re-elected every 3 years. The Senate meets in the New Shetland Legislative Hall.
The Senate was found in 1923 when New Shetland became officially an independent state. The Senate started out with 100 seats, but this was changed to 150 in 1952 when the constitution was amended. Most parties currently in the Senate are part of one of the two political blocks in existence today in New Shetland.
The senators are chosen by direct elections. A district system was implemented in the 1930s but abandoned when only three parties got elected and fears of a troubled, bipartisan political system arose. Nowadays the amount of parties elected to Senate changes from time to time. In 2001-2002 the 37th Senate counted 14 parties. Sometimes independents are also elected to the senate, as it is perfectly legal to not bind yourself to a political party. In the 34th Senate 17 independents were elected that were all in favor of the Conservative party but rejected the leader of the party, Matthew Lovelock, who was thought of as being to radical.
Results of the 2011 election
Edit